01 Feb 2022
BETTALIFE'S Total Support in new PharmaPRO – Total Equine Support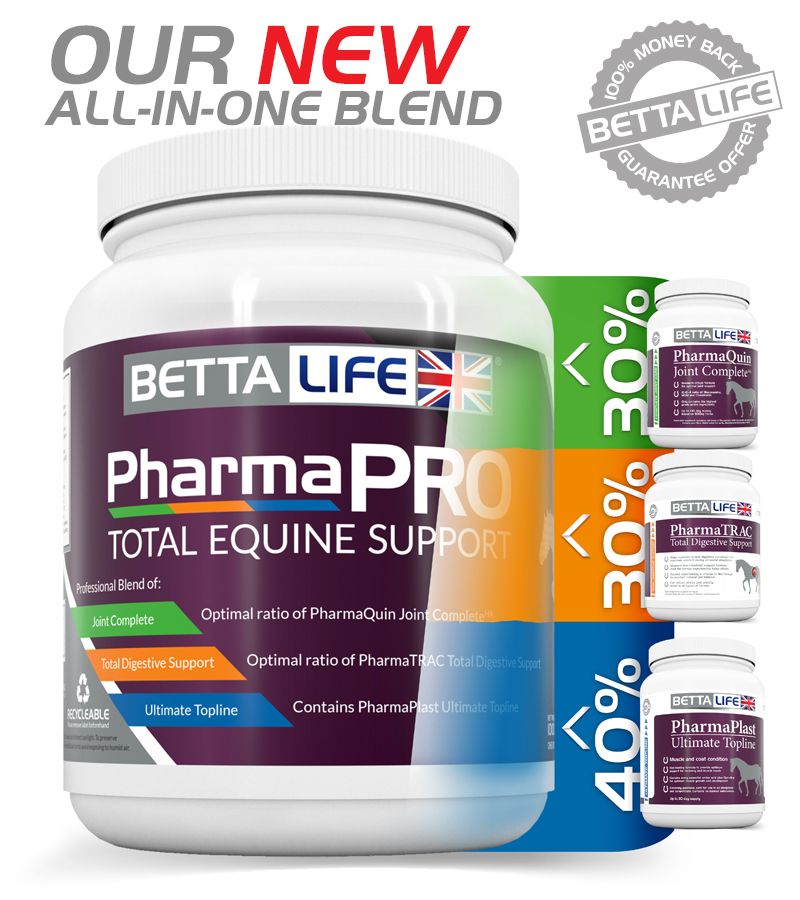 Building on the success of the existing range, PharmaPROoffers a unique blend of the three existing BETTALIFE® equine products – PharmaPlast Ultimate Topline, PharmaTRAC Total Digestive Support and PharmaQuin Joint Complete HA. Formulated from 30% PharmaQuin, 30% PharmaTRAC and 40% PharmaPlast blend, this ratio providestotal support with optimum levels of thirty-five active ingredients. PharmaPRO has been created for riders on the go, providing horses with one scoop a day and saving time, hassle and measuring – invaluable if time is short or for horses on full livery and competition yards.
Created with a research driven formula, PharmaQuin contains an optimum 10-10-4 ratio of Glucosamine HCl, MSM and Chondroitin to provide complete joint support and care. PharmaTRAC offers total digestive tract support, targeting both the foregut and hindgut of horses. PharmaPlast supports muscle condition, topline, post-exercise recovery, and coat & hoof condition, all with a unique sugar-free and non-heating formula. Blended evenly together to ensure continuity of active ingredient levels throughout the supplement, PharmaPRO provides an answer for owners who may have fussy feeders, or horses who would benefit from all three supplements in conjunction.
Ryan Millar, Director of BETTALIFE®, said: "We're proud to be bringing PharmaPRO to the equestrian market, we have been working on the formulation for over a year now to ensure this product does exactly what it says it will. It has undergone a thorough testing process with our highly trained and professional brand ambassadors and we are really pleased with the outcome and believe it is a feed room essential for every yard. The new PharmaPRO combines the very best from each product in the range and delivers it all in one scoop!
"PharmaPRO is manufactured in the United Kingdom, as with all BETTALIFE® products and fully supports the CleanSport initiative, meaning that it is completely competition legal. Through creating the perfect ratio for total support by combining thirty percent PharmaQuin, thirty percent PharmaTRAC and forty percent PharmaPlast this means that the formula is at the optimum levels for nutrient utilisation, making it highly effective and importantly easy to feed."
Dressage Rider, Charlotte Blain, was amongst the riders to test the new product, she commented: "With the workload that goes along with being a dressage horse, it's super important to me that my horses' bodies are as looked after as best possible. With BETTALIFE's PharmaPRO, I have total confidence that their joints, muscles and gut health are fully supported in one convenient scoop. The super palatable blend is even a hit with my fussy eaters, it's a win-win on the yard and makes feed time a lot easier."
Now in its sixth year, BETTALIFE® is a British supplement company, providing targeted nutritional support for horses, humans, and dogs. Their high specification, research driven formulations contain zero fillers or bulking agents and are relied upon my horse owners across the country. The addition of PharmaPRO to their already successful range provides horse owners with complete peace of mind that their horses are receiving the finest ingredients to support them.

PharmaPRO will be available to purchase both in store and online in 2022. The feeding rate of PharmaPRO is one scoop per day for a 500kg horse on maintenance, with the tub providing 30 days of use for a horse of that weight. As with all BETTALIFE® products, PharmaPRO will be available with a 100% no quibble Money Back Guarantee. All BETTALIFE® products are available in a recyclable tub, excluding the labels which are unfortunately not yet recyclable. For further information about the product please visit www.bettalife.co.uk or contact the team directly.