05 Sep 2022
Teesside's Vivendi Apparel Makes First Visit To Beta - British Equestrian Trade Association - As It Takes Huge Steps Toward National Wholesale at Stand 2-C31.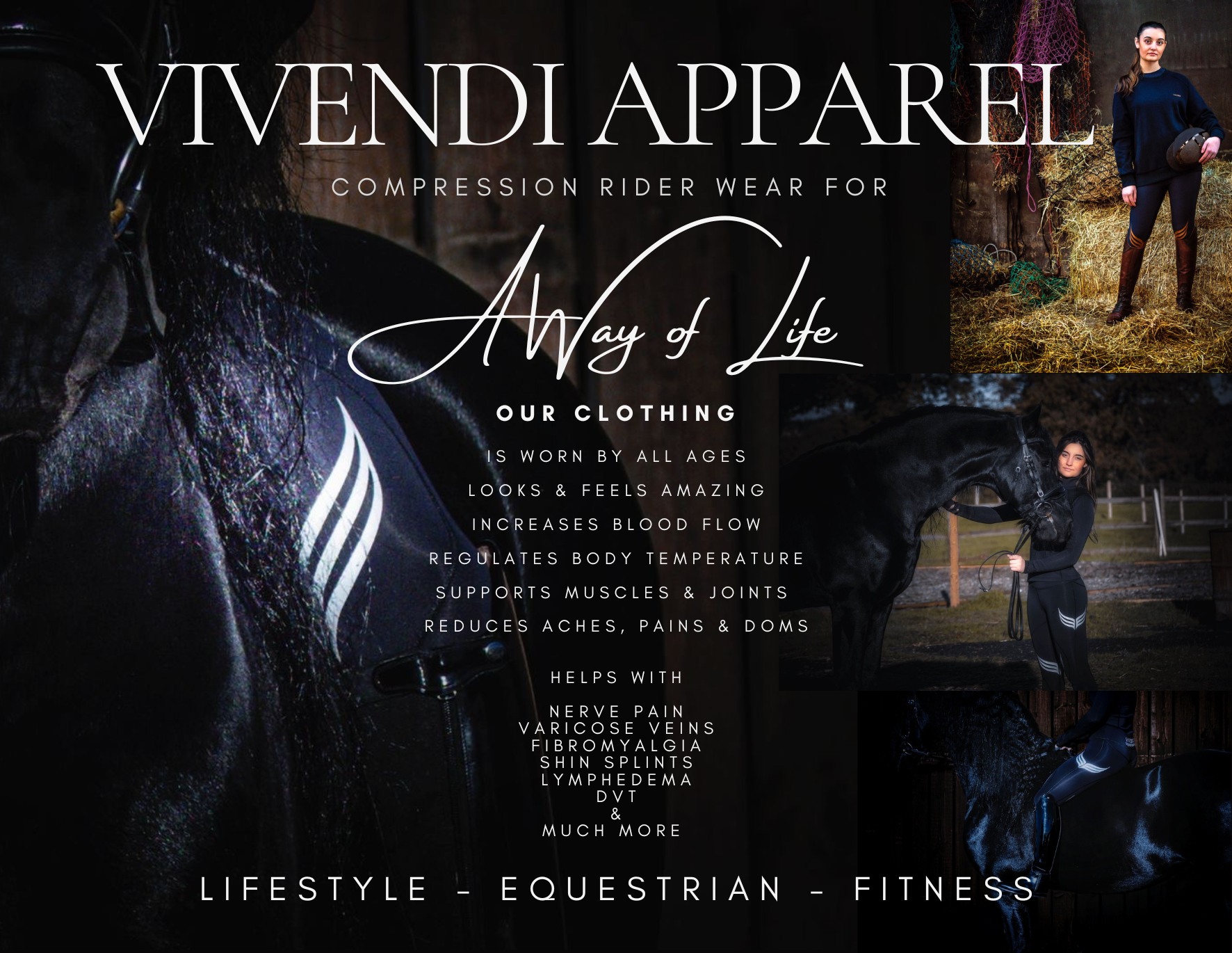 Vivendi Apparel, the specialist compression wear brand providing sports recovery clothing to equestrians in the UK and globally, will now be attending this year's Beta (British Equestrian Trade Association) Show for the first time in a bid to expand its already flourishing wholesale plans.
The 3-day show will see Vivendi Apparel, on stand 2-C31 putting its medical grade compression clothing for riders out to a wider audience for wholesale 2023, showcasing its current lines as well as the brand new collection for Autumn/Winter 2022/2023.
Across the 3 days, Vivendi Apparel will be meeting with buyers from companies up and down the UK as well as international buyers looking to expand their current offering and with their unique panelling and technical fabric, Vivendi look set to shake up the equestrian scene even more.
Elizabeth Davies, Founder of Vivendi Apparel commented, "We couldn't be more excited to be joining one of the world's biggest trade shows and we can't wait to showcase our current continuity lines as well as the brand new designs we have in store. 2022 sees us stepping into what will be our 5th year of trading and despite some very difficult times for e-commerce around the world, we're still here and still standing strong. I truly believe that's thanks to our unique designs that actively help riders. When your clothes work as hard as you do, why would you wear anything else?"
Vivendi Apparel's unique panelled compression wear actively supports muscles and joints by increasing blood flow when worn. This not only increases perceived performance when being worn during exercise, studies have shown, but can also help speed up recovery when worn following intense exercise. With amazing reviews from riders with chronic pain and conditions such as Fibromyalgia actively testifying to the fact, Vivendi Apparel looks set to make waves. To find out more, visit Vivendi Apparel at stand 2 - C31
For more details: vivendiapparel.com
Editors' notes:
Vivendi Apparel launched in 2018, originating in medical-grade compression wear that aids sufferers of spinal injuries and chronic conditions such as fibromyalgia. With the compression wear's medical benefits, Vivendi Apparel began introducing its specialist wear to injured jockeys and horse riders before the brand exploded onto the equestrian scene as an everyday worn brand, becoming a functional and stylish addition to the equestrian and fitness enthusiast's wardrobe competing against some of the biggest names in the industry within its four years.
While the brand's roots and heritage lie firmly within the equestrian sector, its popularity within the fitness industry has grown and Vivendi Apparel is now worn by equestrians such as Charlie Seymour, Olivia Bowen and Emily Gorman, as well as athletes including The Sculpted Vegan Kim Constable and Crossfit Champion Ashley Horner, throughout multiple disciplines, from cycling to running and on the gym floor.
The brand is preparing for major expansion in 2023, which will see its high-end compression wear worn by sports enthusiasts from Olympic show jumpers to Weight Lifters, long-distance Runners to champion Cyclists.
/ends
Contact:
For interview opportunities with Elizabeth Davies, Vivendi Apparel's Founder, please contact the company's Marketing Director Jennifer Hyde on: email: jennifer@vivendiapparel.com or phone: 01642 505667/07817325131.