2021 Best Stand Awards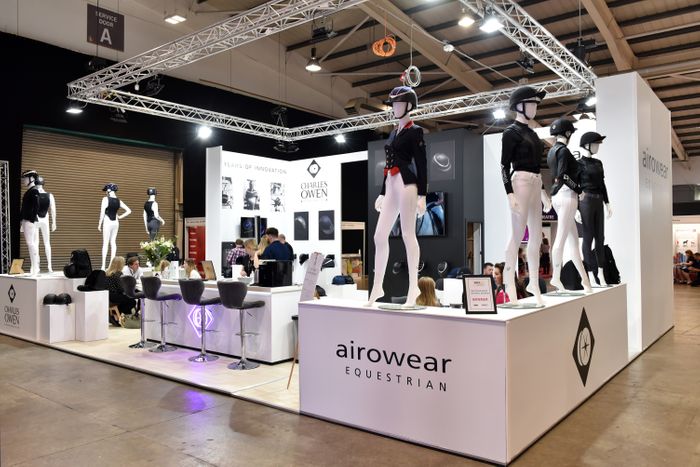 Exhibition stands at BETA International are always polished, professional and powerful sales and marketing platforms guaranteed to impress and delight visitors attending this leading trade show.
They take time, effort and a huge amount of creativity, and the very best are rewarded in the BETA International Best Stand Awards. Every exhibitor is automatically entered into the competition, which is divided into two categories – Best Large Stand (32 square metres and over) and Best Small Stand (under 32 square metres) – to reflect the different types of companies in the halls.
Judging was carried out by independent judges. At BETA International 2021, these were NAEC Stoneleigh's account director, Lynn Gardner, and Lowri Croydon, sales and marketing account manager at Stoneleigh, plus Fran Bos from Riding for the Disabled Association, who toured the halls incognito to consider each stand.
This year, the winners were:
BEST LARGE STAND
Winner: Charles Owen & Airowear
Judges' comments: "An amazing stand, light and welcoming with a great visual impact. You simply can't miss the stand, the information was very clear and easy to see."
Highly commended: Red Gorilla
Judges' comments: "A clean, fresh, colourful display with plenty of seating. The team were very easy to talk to and it was nice to hear about the family history."
BEST SMALL STAND
Winner: Platinum Agencies
Judges' comments: "The stand was very clear and well laid out, fresh and modern, and was truly different and also very versatile."
Highly commended: Heygates Country Feeds
Judges' comments: "A very nice display that related well to the products. It was great to be able to touch and feel the feed. The team had excellent product knowledge."
"Congratulations to our winners," said BETA International organiser Claire Thomas. "They have succeeded in delivering stands that are extremely pleasing on the eye and perfect for this commercial environment."
"Top-class tradestands are a real hallmark of the show and the standard in the halls this year has been incredibly high. Lynn, Lowri and Fran certainly had a challenge on their hands selecting the worthy winners, but what fantastic winners we have! Congratulations to the four companies – their stands are a real credit to them."
BETA International is the world' leading trade show for equestrian, country, pet and giftware products. This year's show took place at the NAEC, Stoneleigh, UK, from 9 to 11 September.
FOR MEDIA ENQUIRIES...
Contact: Tim Smith, BETA International Press Officer
Email: tim@timsmithmarketing.co.uk
Telephone: 01724 784600.