12 Sep 2022
BETA International 2022 New Product Awards revealed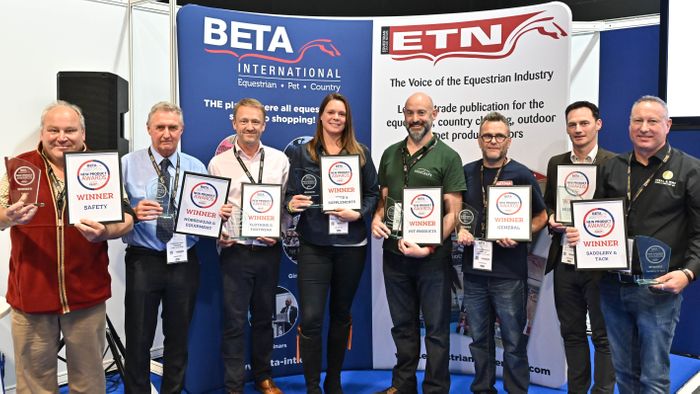 The winners of the BETA International 2022 New Product Awards, sponsored by Equestrian Trade News, were chosen by a panel of independent retailers and retail experts, who arrived before 9.30am on the first day of the show (Sunday, September 11th) in order to make their choices from an impressive range of items.
Their decisions took into account a number of guideline criteria such as product innovation, design, quality, packaging, value for money and sustainability.
The judges agreed that the New Product Showcase had produced a high calibre of entries with a tremendous amount of innovation.
The Awards were presented to the winners at 5.15pm on Sunday by Claire Williams, Executive Director of BETA.
Here is a full list of the winners together with the judges' comments:
BETA International
New Product Award Winners (sponsored by Equestrian Trade News)
CLOTHING & FOOTWEAR
Winner: Supreme Active Show Rider Waterproof Onesie, Battles (stand 2-B16)
Judges said: This product is innovative, beautifully made and easy to get on. It's a versatile product for all weathers with a breathable fabric, and it's also good value.
Highly Commended: Amalfi Leather Riding Boot, Shires Equestrian (stand 2-B4/2-C4)
FEED & SUPPLEMENTS
Winner: Joint Support Cookies, Premier Performance (stand 2-E2)
Judges said: Great idea for a short-term solution for horses that won't take supplements.
GENERAL
Winner: Christmas Advent Calendar, Maxima Mix 'N' Munch (stand 2-B11)
Judges said: It's eco-friendly, recyclable and very saleable. Consumers will love the sustainable packaging and the competitive price point.
Highly Commended: Crafty Colour-In Pony, Crafty Ponies (stand 2-A26)
HORSECARE
Winner: Power Phaser Roll-On, Leovet/Mackey Equestion (stand 1-A10)
Judges said: This is a fantastic product at a good price point. It's easy to use and very practical when out and about. It's ideal for horses who hate spray.
Highly Commended: EcoGroom, Perry Equestrian (stand 1-C10)
HORSEWEAR & EQUIPMENT
Winner: Oxi Zone Training Boot, Shires Equestrian (stand 2-B4/2-C4)
Judges said: This product offers a great look as well as good protection. It's well designed, breathable and washable. Great value for money making it very saleable.
PET PRODUCT
Winner: Tricks & Trivia, Goodchap's (stand 2-C17)
Judges said: We loved this product because it helps an owner bond with their pet. It's a great gifting idea at a fantastic price.
SADDLERY & TACK
Winner: Technical & Traditional II Saddle Range, Ideal & WRS Company (stand 2-E21)
Judges said: A clever product at a good price. Excellent design for bespoke options and adjustability.
SAFETY
Winner: Pikeur-ABUS Air Luxe Helmet, Shaws Equestrian (stand 1-D14)
Judges said: The safety standards on this peaked helmet are a unique selling point. It's an excellent product with good safety features.
Ends
New Product Award Winning Photographs:
Photographs of the presentations are available to download at https://stewartwrittle.dphoto.com/album/457h46
For more information contact Neil Pope at press@impact-exhibitions.com or on 07595 442601.