13 Sep 2022
BETA International attracts 'high quality' visitors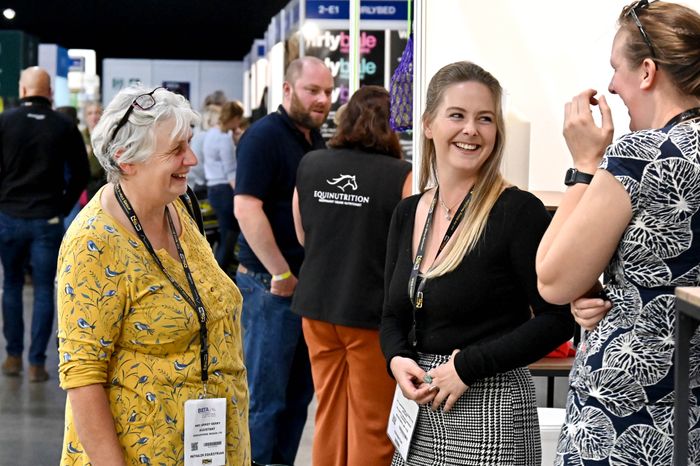 BETA International, sponsored by Neue Schule, has proved itself yet again to be the top trade show for the UK equestrian industry, with the event providing the perfect platform for the launch of so many new and exciting products.
The event at the NAEC Stoneleigh on September 11-13 closed with visitors and exhibitors agreeing it had been a great success.
Exhibitors revealed the quality of visitors to their stands was exceptional with many praising the show for attracting key buyers and decision makers.
The mood was summed up by new exhibitor Barrus, whose chairman Tara Glen said: "We chose to exhibit at BETA International because it's an ideal platform to showcase our brands like Town & Country and Wilkinson Sword to equestrian retailers. We're delighted with the high quality of visitors to our stand."
Another newcomer to the show, Agaso Equestrian, was pleased with its decision to exhibit. Owner Brenda Smith said: "A lot of interest has been shown in our products from serious buyers. I wanted to get our brand name recognised in the market and this show has helped me achieve that objective. I'll need a bigger stand next time."
Kim Bronson, owner of EquiVisor, flew in from California to exhibit at BETA International for the first time and she was delighted with her trip. "This show was recommended to me as I wanted to introduce my company's products to the UK market and I'm so happy with the decision to be here. We've had a great welcome and made some important contacts."
Neue Schule continued with its main sponsorship of the show and CEO Sarfraz Mian said: "The industry has worked hard to emerge from some challenging times and BETA International has enabled us to look forward to a strong and positive 2023. It has provided retailers with the opportunity to find new products that will help them elevate their business next year."
Retailers and buyers attending BETA International agreed the event was important for their future planning.
Matt Severn, of Manor Equestrian, Nottingham, said: "As a retailer it's important to have BETA International. As well as being able to see what's new all under one roof, it also allows us to network and socialise with suppliers and other retailers."
As well as seeing an unrivalled array of new equestrian products and speaking to top suppliers and manufacturers, visitors were also able to listen to seminars from prominent industry figures over all three days.
BETA International also paid its own respects to the passing of Her Majesty Queen Elizabeth II with two minutes silence on Sunday (September 11).
Following this year's successful show, the organisers look forward to welcoming exhibitors and visitors back to BETA International in September 2023.
ENDS
Photographs from BETA International 2022 are available to download at https://stewartwrittle.dphoto.com/album/457h46
For more information contact Neil Pope at press@impact-exhibitions.com or on 07595 442601.