BETA International was buzzing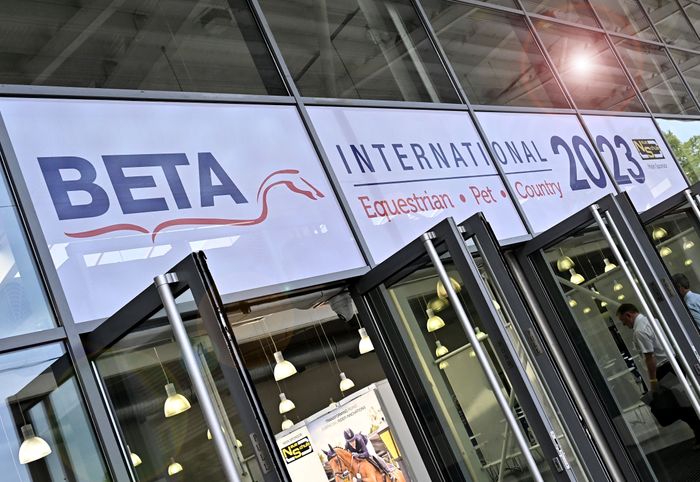 ETN brings you the people and stories from NAEC Stoneleigh on Sunday and Monday, 10/11 September.
Always a trade show of its time, a nimble, compact BETA International was just right for 2023, writes Liz Benwell.
The two-day event hosted around 135 exhibitors in one huge, airy exhibition hall, creating a buzzing, busy atmosphere.
The 'Stoneleigh' effect had exhibitors liking the relaxed but well organised infrastructure and visitors finding the venue highly accessible with its handy, free parking.
"Surprising" was a much-used word once the show opened for business. Surprisingly busy, surprisingly lively environment, surprising quality and quantity of visitors…
In a year of mixed economic challenges, fluctuating consumer confidence and weird weather, BETA International hit the spot.
Heard around the stands…
Chatham reported "firm interest" from a buyer visiting BETA International for a chain of 32 stores. The footwear brand also unveiled a canvas deck shoe collection created in collaboration with Joules. "Tom Joule has personally had a lot of involvement with its development," Chatham's Sue Rhodes told ETN.
Fiona Shaw at new exhibitor Biteback Products said they'd had "lots of nice conversations" and had "really enjoyed the experience. It's such a friendly show."
"If you're as loyal to the trade as we are, it's important to be at BETA International," said Rob Lugsdon of Ideal Saddles, the Walsall manufacturer that's exhibited here since 1987. "If you don't have a face, you don't exist."
RNZ Equestrian, which for ten years has exported saddlery products across the globe from its factory in India, had cause to celebrate. Margis Begum, company founder and whose husband Rehan Solanki was at the show, was recently presented with an award by Prime Minister Narendra Modi recognising her as a top player in the country's leather industry.
The popularity of TV's The Repair Shop is creating a buzz around sustainability, with leather crafts seeing a resurgence, said Richard Brown at Abbey England which fulfils every workshop need. Orders taken at BETA International, he added, included those from a Moroccan saddle-maker and two American saddle fitters who'd combined their visit with a trip to nearby Walsall.
Bedding and packed forage suppliers were well represented. "Stocks ran short after last year's dry summer," said Elfie Cracroft-Eley at Baillie Haylage, "and even though it's been a great growing season this year, now's the time to re-stock. BETA International is ideal for us to find new stockists further afield across the UK. It's been busy and well worthwhile [exhibiting]."
Christmas came early at one of the busiest and brightest stands, Elico Equestrian and Jenkinsons. Complete with flashing lights and great gift ideas, the hard-working Ellis family gave visitors plenty of see. "We've been very busy and we're very pleased," was all Keith Ellis had time to tell ETN.
Pet trade shows are more familiar territory for Dwayne Bolton of Bartholomews which was exhibiting poultry and wild bird food. But he was pleased he came. "There are more serious buyers here than at some pet shows," he remarked. Dwayne adds that there are serious profits to be made by buying big sacks of bird foot and re-bagging into small units for retail sale.
"Face-to-face beats email every time," said Steve Willis at Snowflake bedding – and he was by no means the only one to make this post-pandemic observation.
"It's really useful to get retailers' feedback on the products," said Rachael Holdsworth at Absorbine. "There's been a lot of interest in Silver Honey wound care and being here gives us the chance to enable buyers to see the full range. It's surprising how many have picked up on our liniment too."
Stunning, colourful new rug designs stopped many visitors in their tracks at Gallop's stand. "It's been absolutely great… being here gives us the chance to explain that the products are safe and correct as well as good-looking," said Amy Richards of Gallop. "We've been really busy and taken lots of orders," she added. "It's so important to show our face and our support for the industry."
Two British saddle companies were excited to have secured sales opportunities in the US as a direct result of exhibiting at BETA International.
Fun and sparkle were big winners, with Glamourati enjoying a "busy Sunday afternoon with people saying they'll come back and order tomorrow," reported Nigel James at the glitter kits supplier. Children's stencils and Halloween kits for ponies were especially popular.
"We had a good day yesterday [Sunday] and it looks busy so far today," said Chris Dovey at socks and accessories specialist Platinum. "We'll love BETA International for as long as the trade loves us," he added.
The organisation of this year's BETA International had returned to the trade association's commercial arm this year, having been contracted out in 2022. "BETA does a really good job of putting on this event for the trade," said Claire Shand at Westgate Laboratories. "For us, it's a great platform to talk about sustainable parasite control and allows us to work collaboratively with others in the industry."
And finally, ETN met two different visitors who'd come to BETA International to source manufacturers and distributors to help them develop new product ideas. It's indicative of a bright, innovative future for our industry of which BETA International remains an integral part.
Mentioned in despatches…
The BETA International Best Stand Award judges made special mention of two outstanding people they had encountered while touring the show.
Fergal McNally at Botanica International and Hayley Herron of Silvermoor were commended for being engaging, helpful and knowledgeable about their products.
When ETN relayed the good news, Hayley was keener to talk about Silvermoor's new Silverbed, an equine bedding made from recycled paper and retailing at £5.95 for 20kg. "There's been immense interest in it," she added.
At Botanica, Fergal said being at BETA International was a great opportunity to "give an in-depth run-down" on Botanica's natural, herbal products and how to use them to best advantage. "It's been so great to speak face-to-face to customers and dig a bit deeper into what they want to know" he explained. "It's been busy and people are here to buy."
What the visitors said…
"We've already found some new things and good deals from existing suppliers. That's exactly why we always come to BETA International," Charlotte Salter from Wilsden Animal Feeds in West Yorkshire told ETN.
"I only came for the CPD points [awarded for attending AMTRA accredited seminars at the show] but ended up looking round and I've been very impressed," said Amie Pounder from Mole Valley Farmers in Cirencester. "I learnt a lot from the seminars and it was useful to follow through by visiting the speakers' stands."
"It's always worth coming to see what's new," Sue Lees, Performacne Saddle Shop, Portland, Dorset.
"It's a concise show with a good atmosphere," said Ben Atkinson, making his first visit from Naylors, the Cheshire based retailer. "We're always looking for something different [to stock]; we found Equi-Light here, so it's been well worth coming."
"I'm an equine therapist and I've come to find out about the latest bits, saddles, girths and bridles because clients are always asking me about products," said Michelle Brown of Evolution Equine Therapy who also spotted useful equine massage and heat pads during her visit.
Eiron Reid, visiting from Willoughby Park Polo Gear, was delighted to find "some really nice socks from Platinum" and "a lot of great home-ware and gift ideas" for her Rugby based store which specialises in the sport of princes as well as general equestrian products.
Visiting from Co Wicklow in Ireland, Donal O'Beirne of Hoofprint Innovations said he'd come "looking to see what's new because we're constantly changing which brands we stock."
"It's been great actually meeting people in real life, which we don't do enough these days," reflected Kristina Tissot visiting with business partner Hayley Zulhayir from competition website and new BETA member Equine Giveaways. "We've met current suppliers, chatted to people from magazines and found some new products like the Equilibrium Heat Pad and lovely saddle pads from Weatherbeeta." Founded in 2020 as a pandemic project, Equine Giveaways has 40,000 followers and "better odds than winning the lottery," according to Kristina who used to work for discount retailer Equestrian Clearance.
Lynda Mortlock from Ingatestone Saddlery Centre in Essex, who's been to more BETA International's than most, gave the 2023 edition a thumbs-up. "There's a good atmosphere and more people here than I thought there might be," she said.
"I come every year and wouldn't miss it," said Lara Edgeley from Barnyard Pet and Equestrian in Northwich, Cheshire. "It's a great way to see suppliers all together."
Regular visitor, Nicola Preston of Speedgate in Kent, believes BETA International remains the best place to see new products and catch up with other retailers. "Sometimes it's good to discuss the issues we all share but don't often get the chance to talk about," she explained.
Boots for members of the Household Cavalry and King's Troop were on the shopping list of Beverley Elsworth from Ministry of Defence procurement agency Leidos. "We're also here to generate interest from potential suppliers and advise companies how to submit tenders," she added.