28 Jan 2019
BETA INTERNATIONAL MARKS ITS 40TH YEAR WITH ANOTHER WINNING SHOW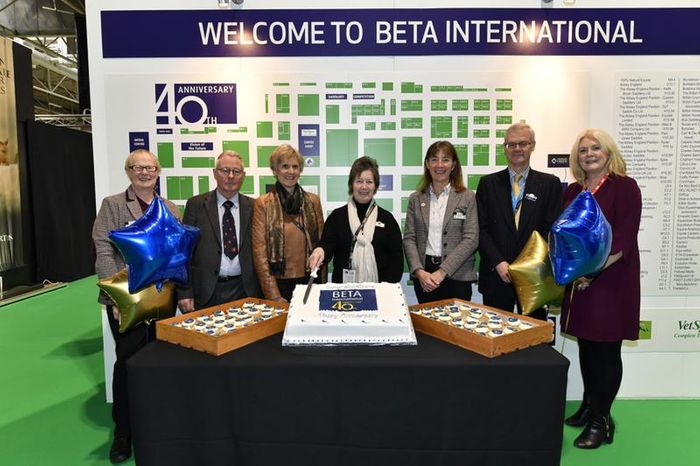 BETA International enjoys an enviable reputation for its high-quality exhibition stands. The work of companies going that extra mile to create an attractive and effective retail environment is celebrated by the show's Best Stand Awards. All exhibitors are automatically entered into the competition, which was independently judged by Amanda Chadwick, of Croner, and Kim Pengelly, of Hope Pastures, the show's chosen charity for 2019. After touring the halls, they selected Toggi as winner of the Best Large Stand Award (32 sq m and over) and Harcour for the Best Small Stand Award (under 32 sq m).
The Society of Master Saddlers showcased the high standard of saddlery apprentices and students. Sunday's challenge saw those from the Saddlery Training Centre make a high-ring grackle noseband, with the challenge won by Rebecca Simmons, of Pegaso Saddlery & Leatherwork, Buckinghamshire. On Monday, second-year Capel Manor College student Zoë Hurst won with her plain cavesson noseband. Tuesday's competition, to make a bridle headpiece, was won by first-year Capel Manor College student Michelle Bogaerdt.
Winners of the show's awards were announced and presented with their prizes during a special ceremony at The Charles Owen Spotlight on Sunday evening, when visitors and exhibitors gathered to congratulate them. Main sponsor Neue Schule also presented graduates of its inaugural Bit & Bridle Fitting Course with their certificates.
This was followed by free After-Show Drinks, where industry colleagues and friends gathered to celebrate BETA International's 40th year with the trade fair's organising team over glasses of bubbly and delicious canapés. This ruby landmark was also officially recognised with a large photo wall charting the journey from the show's humble beginnings as a travelling trade fair to its present format as a large, international, annual event.
On Monday, BETA International organiser Claire Thomas, former trade association secretary Penny Marriner, BETA executive director Claire Williams, chair Ian Silman and BETA president Jane Holderness Roddam, Trade Fair Committee Chair Philip Tyler and Sonya Cox of the NEC cut the show's 40th anniversary cake, to much applause from members of the trade – many of whom could recall the early days of BETA International themselves.
BETA International celebrated its 40th year by living up to its global reputation as the unmissable three-day buying and business event for equestrian, country clothing, outdoor and pet products. From 20 to 22 January, the show threw open its doors at the NEC, Birmingham, to exhibitors and visitors from across the UK and overseas.
This world-class industry event featured some of the finest products and services on the market – many unveiled for the very first time. Everyone from buyers at small independent stores to purchasing teams at multinational retail chains visited the show over the three days, taking their place among friends and colleagues for this annual trade gathering with golden networking opportunities.
ITV newscaster Alastair Stewart was back in the halls as the popular host of Talking Business, BETA International's gritty industry debate, at The Charles Owen Spotlight – a contemporary, new entertainment and education theatre – on Sunday.
This year's panellists were Trilanco managing director Martin Balmer, Horseware Ireland CEO Tom MacGuinness, retailer Kevin Galbraith, director of Ayr Equestrian, Lisa Lemieux, director of Horse Health and the LeMieux brand, Philip Tyler, executive chair of the TopSpec Group, and Doug Walker, president of the Weatherbeeta Group.
Inevitably, the uncertainty surrounding the possible effects of Brexit was top of the bill, while the changing role of wholesalers and distributors – some now supplying their own brands – was also debated.
The Charles Owen Spotlight remained busy throughout the show, with a full programme of seminars, celebrity interviews – and the Fashion Show – taking place every day.
Each session was industry-specific, covering subjects such as employment law, equestrian safety, saddle fitting, social media advertising and bitting. Christine Paine, head of inspections and investigations at the Veterinary Medicines Directorate, led the SQP seminar Prescribing for Horses and Inspections Update – What an SQP Needs to Know, worth eight CPD points, Claire Williams's Safety Update seminar provided five CPD points for BETA-trained City & Guilds safety garment fitters and Kate Hore, of NAF, hosted the seminar Nutritional Support of a Calm Outlook, worth four CPD points.
Visitors were thrilled to meet and listen to the show's three "Golden Girl" guests – Olympic track cyclist-turned-jockey Victoria Pendleton, Paralympic dressage rider Sophie Christiansen and 2018 World Equestrian Games eventing champion Ros Canter – who have all won gold medals in their sports careers.
Victoria recalled her transition to horse racing in the 2016 Foxhunter Chase at Cheltenham and revealed how horses have played an important part in her recovery since she had to abandon her attempt to reach the summit of Everest for a TV programme and suffered from depression.
Paralympic multiple-gold medallist Sophie Christiansen was back by popular demand after inspiring audiences at last year's trade fair. In an interview with show commentator Philip Ghazala, she talked about her new horse, Harry, and their hopes for Tokyo 2020.
Ros, who shortly before her BETA International appearance announced that she is expecting a baby in July, recalled her World Equestrian Games experience on Allstar B, taking both team and individual gold medals. After 10 years of competing, she said: "I still have to pinch myself that it has actually happened."
Fashion continued its reign at BETA International, with the Fashion Show flagging up some of the sassiest rider and country collections to date. With new organiser and choreographer Victoria Thomas, of Red Ice Productions, in charge, things definitely shifted up a gear, with a decidedly high-octane performance on the runway. A professional dancer and actor, Victoria brought an exciting, fresh vibe to the daily shows with new models, edgy dance routines and a music score that stays in your head for weeks.
Buyers took their seats to see scenes from Montar, Bucas and Covalliero, Horseware Products, Toggi, Champion, Percussion Clothing, Horse Health Trade and Charles Owen/Airowear.
Retailers were also given a glimpse into the digital age of robots and hi-tech shopping at Vision of the Future – an area complete with a Sanbot Elf robot and revolutionary app designed by Jisp to enhance the customer experience. To enable visitors to appreciate its many benefits, the app could be downloaded beforehand and used to access product and general information from around the halls – including garment details at the Fashion Show.
Competition was a key theme at the show, with this year's Innovation Awards keenly contested by companies determined to secure one of the highly prized trophies for their latest product. Sponsored once again by Equestrian Trade News, the show's media partner, the awards continued to attract a large number of entries for each of the eight categories.
A specially selected panel of judges, each chosen for their expert knowledge and experience, rose to the challenge of selecting the winning products. This year, they were British Eventing team vet Liz Brown, master saddler and saddle-fitter Kay Hastilow, Steve Hodgson, co-owner of retail store Nags Essentials, Kathryn Jaquet, managing director of retail business RB Equestrian, independent equine nutritionist Catherine Rudenko and international event rider James Sommerville.
Winners were presented with their awards by ETN editor Liz Benwell and senior advertising executive Beth Crow. They were: Sioen UK with the Baleno Pembroke jacket (Country Clothing & Footwear); NAF with Five Star Magic (Feed & Supplements); Stride Innovations with the Steady wrist band (General); Equilibrium Products with its therapy hind and hock magnetic chaps (Horsecare Equipment & [Horse] Clothing); Product Global with the Mud Daddy portable washing brush (Pet Products); Mountain Horse with the Illusion reflective jacket (Rider Clothing & Footwear); Bliss of London with the Sportiva Dressage FLX saddle (Saddlery & Tack); and Charles Owen/Airowear with the MS1 Pro jockey skull (Safety & Security). See our separate news release for full details.
Claire Thomas said: "BETA International 2019 was a truly memorable 40th-anniversary show. Our exhibitors were extremely happy with the quality of buyers visiting their stands, while visitors themselves have been singing BETA International's praises. Our combination of great new products, tried and trusted brands, quirky new companies, world-class seminars and celebrity interviews appears to have really hit the spot. People were serious about doing business and they came to do just that.
"We would like to extend our thanks to everyone who supported the show and to our sponsors and suppliers – Neue Schule, Charles Owen, Equestrian Trade News, Henson Franklyn, Hy, Jisp, NAF, The Original Muck Boot Company, Shires Equestrian Products, Stubbs England, Toggi and VetSpec– who really make this all possible."
BETA International 2020 will take place at the NEC, Birmingham, from 19 to 21 January. For information about exhibiting at the trade fair, contact Darren Mottershead, telephone +44 (0)1937 582111 or email darrenm@beta-int.com.
FOR MEDIA ENQUIRES...
Contact: Deborah Hayward, BETA International Press Officer
Email: deborahh@beta-int.com
Telephone: 01765 635314 / 01937 582111