Innovation is a winner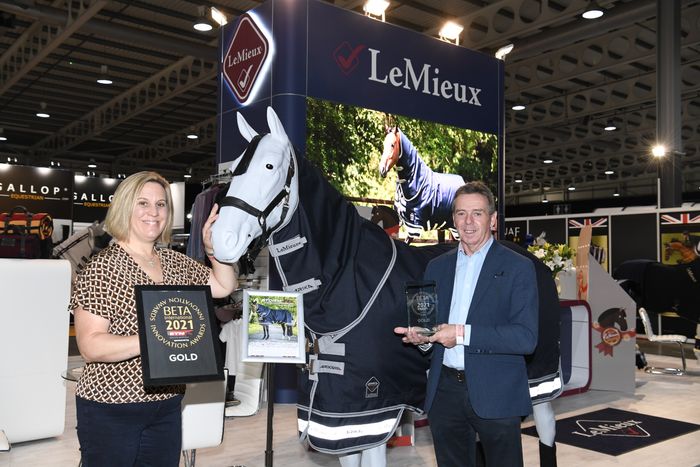 BETA International's Innovation Awards, with their fresh, new format for 2021, certainly hit the spot with the trade-only audience who gathered to hear the winning products announced as the first day of the show ended at the NAEC, Stoneleigh, on Thursday 9 September.
The latest new product innovations were entered into the awards and considered by an independent panel of judges – this year Sue Moxon and Wendy Beal of R&R Country took on the task.
The awards, designed to recognise and celebrate areas such as a product's design, technology, manufacture and environmental credentials, are sponsored by BETA International's media partner and leading industry title Equestrian Trade News.
Every exhibitor is invited to enter products in the competition, provided they have not been introduced to the market during the 12 months preceding the show. Each entry must feature elements that are truly innovative – radically different, completely viable and able to address a definite need.
This year there was one open class with gold, silver and bronze awards lined up for the winning products.
"To be a world-leading show, it is important to move with the times," said BETA International organiser Claire Thomas. "Products and the manufacturing environment are constantly evolving and the Innovation Awards have been reformatted to keep in step.
"We are delighted with the industry's extremely positive reaction to the awards and very excited about all the fantastic entries. Seeing the winners take to the stage to collect their trophies is always very special and congratulations to them all."
The winners of the 2021 Innovation Awards are...
Gold Winner
Company: LeMieux
Product: LeMieux Arika Storm-Tek Rug
A waterproof turnout rug from LeMieux's Arika Rug Collection. Available in three weights with matching neck covers included plus a featherweight turnout for warmer months.
Judges' comments: "The rug has a fantastic 45 degree breast strap and double layer skirt for freedom of movement. Fantastic packaging, great video and value for money."
Silver Winner
Company: Maxima
Product: Maxima Mix 'N' Munch
An equine pick 'n' mix biscuit treat with 100% natural ingredients available in 20 flavours.
Judges' comments: "A great idea customer can cherry pick flavours to suit the horse. Great marketing and retail display."
Bronze Winner
Company: Charles Owen & Airowear
Product: Shadow
The Shadow back protector has been designed for riders not wearing a full body protector and wh prefer a lighter weight alternative. It offers limitless movement over jumps whilst protecting against impacts from a fall.
Judges' comments: "Stylish and sporty looking, ideal for the rider who does not want to wear typical body protection, but who wants some level of protection for the back."
BETA International is the world's leading trade show for equestrian, pet, country and giftware products. The 2021 show took place at the NAEC, Stoneleigh, from 9 to 11 September.
FOR MEDIA ENQUIRIES...
Contact: Tim Smith, BETA International Press Officer
Email: tim@timsmithmarketing.co.uk
Telephone: 01724 784600