18 Aug 2023
Trickle Net launch groundbreaking feeding solution.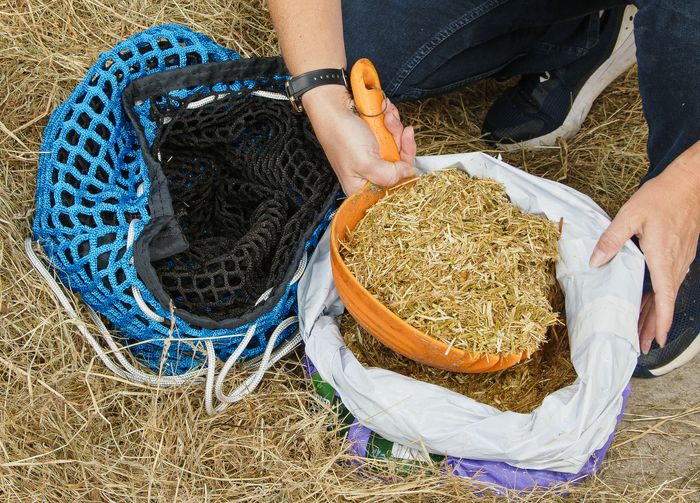 Trickle Nets Shake & Graze Chaff Net (patent pending) is specifically designed to slow feed chaff. A task we thought was impossible, has been achieved by a unique small company, whose entire focus is the natural delivery of forage for better health and wellbeing.
This revolutionary product from Trickle Net is designed to provide more answers to the problems faced in modern equine management.
Ellen Chapman, Founder and Lead Designer at Trickle Net says 'We have been working on this for almost a year. It's been a challenge to ensure the highest quality and best function, but we've got there with extra efforts from our manufacturers and a dedicated team of nutritionists and willing equine testers!'
'The idea behind the product came from looking at research into DM consumption rates on pasture, while we were building our online Forage Calculator in 2021. I wanted to create a product which could simulate this intake with short, chopped forage. The natural acts of grazing and foraging bring huge benefits to equine health, both physically and psychologically. With all the products we design, Trickle Net seeks to bring these benefits to every horse, in places where they cannot graze or forage. e.g., in a stable. After many months of design and testing, I'm delighted we have cracked it!'
'I must thank the whole team for supporting me on this project. Special thanks go to Jennifer Little BSc Hons MSc RNutr PgCert who has been priceless in providing regular reports on what, who, when, and how her prototype was performing. Also, thanks to Michael Bacon of Chanel Equine, who gave me an apt 'kick' when my design mojo wandered off. Swamped with running two small businesses, I had lost purpose for a while. It's back now!'
'It's obviously something I'm passionate about, but the delivery of forage to our horses is just as important as the forage itself. The independent nutritionists I work with are acutely aware of this, but I feel this is often missed by the wider industry. With rates of equine obesity increasing, we must provide owners with the knowledge and the tools to better manage the way we now keep our horses. This product can be part of the solution, but we still have so much to do.'
When asked 'what's next?' Ellen says, 'Well, I've got my design mojo back, and a backlog of new feeding concepts to catch up with. So watch this space!'
Research is in progress on the Shake & Graze Chaff Net, with Nottingham Trent University and Writtle University College. Each looking at different aspects in consumption rate and behaviour. Results are expected in the New Year.
The 'Shake & Graze Chaff Net' will be available to limited trade partners from September 2023.
For more information visit www.tricklenet.com or email sales@tricklenet.com